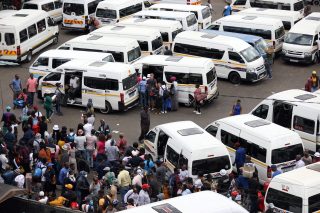 Taxi associations are threatening a national shutdown if their demands are not considered. the South African Taxi Council (SANTACO) says they won't accept the R1.1 Billion Covid-19 relief grant from the government which translates to a R5000 once-off payout for each taxi. SANTACO demands R20 000 for a taxi each month, which amounts to R20 Billion and more from the Government coffers. Arguing that the losses they made during the first levels of the lockdown and now have crippled the industry, as inter-provincial travels are still banned unless it is for strict work purposes, and taxes are not allowed to carry full capacity,
The taxi industry moves approximately 15.6 million passenger journeys on a daily basis, accounting for moving 68% or 5.4 million passengers daily.
It is estimated that this industry generates an excess of R40 billion per annum, with approximately anything between 250 000 to 300 000 taxis that generate approximately 350 000 direct and indirect job opportunities. These include drivers, rank marshals, and other administrative support staff.
The Minister said there were currently 137 000 legal taxis operating in the country, with the relevant and valid operating licenses.
Gauteng province commuters are left stranded as taxis are not operating as ways to send a message to the Government meanwhile in Pretoria police had to use rubber bullets to disperse a violent protest conducted by taxi drivers who have closed the R55 in Laudium, Pretoria.
Police, backed by the army and Tshwane Metro cops had kept an eye on the R55 after taxi drivers blocked the roads using their vehicles, stopping anyone from going through. Traffic along the R55 which connects Pretoria Central with Laudium, Centurion, and Atteridgeville, had to be diverted to alternative routes in order to protect motorists from facing the wrath of angry taxi drivers who wanted no one to pass.
The minister of Transport Fikile Mbalula is adamant that there won't be more money from the Government to the Taxi association because Government was already bleeding funds to other businesses.
The protests are already unfolding across the country as most taxi associations want to either increase taxi fares or get more from the Covid-19  relief grant.